In 2014 Yannick Alléno took over the culinary direction of Pavillon Ledoyen, an iconic Parisian gastronomic institution ever since 1792.
He set up his restaurant "Alléno Paris" in the Salon Byzance, designed by Louis Jacques Galland in 1840 and classified as a historical monument. Yannick Alléno's modern and distinctive cuisine places the sauce, a true pillar of French cuisine, at the heart of his creative ambition to offer a memorable experience to his guests. Only seven months after its opening, the MICHELIN Guide awarded "Alléno Paris" with three stars, placing Yannick Alléno in the very select circle of the world's greatest chefs. His visionary approach to culinary art, his expertise and creativity resulted in the successive openings of the restaurants "L'Abysse", the sushi counter in 2018, and the "Pavyllon"gourmet counter in 2019, setting a world record for bringing together 6 Michelin stars under one privately owned roof.
His reflections on the evolution of the service in great restaurants led Yannick Alléno to create the concept of "La Conciergerie de Table" in September 2021, perfecting personalization of the service for guests from the moment of reservation. This added service allows for a more intimate bondwith clients who are involved in the process of preparing their dinner, making it a unique and memorable moment. And to anchor the historic décor in a new era, the multi-starred Chef, who is as passionate about art as he is about gastronomy, called on the artist Kostia in 2021 who imagined a piece of art that is both contemporary and timeless. Playing with light and transparency, the artist created a beautiful selection of veils, embroidered with floral motifs that recall the wooden panels of the restaurant and that seem to float in their suspended frames. A "see without being seen" that allows to admire the beauty of the place in a very intimate setting.
Yannick Alléno became a Comité Colbert member in 2022.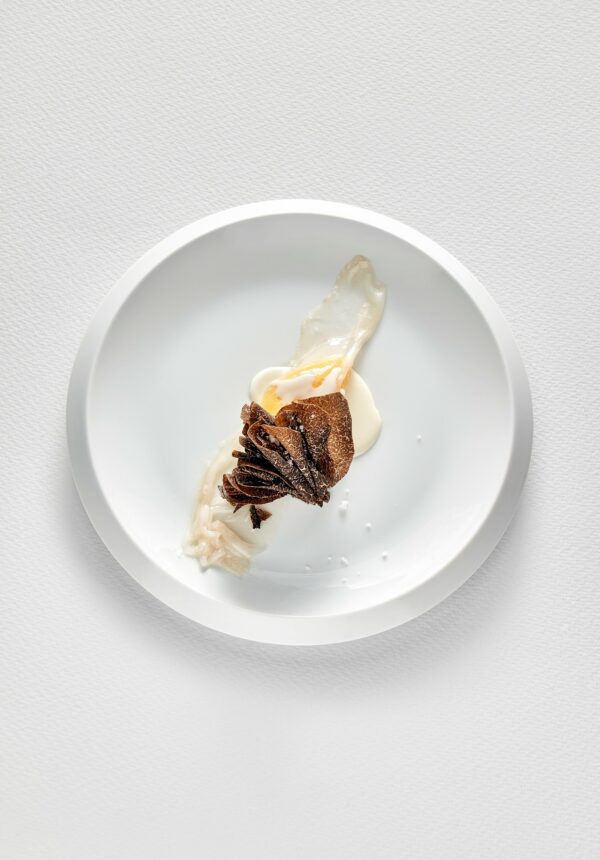 Thanks to the Extraction® process, modern sauces reveal the quintessence of the produce with a unique exquisite taste of exceptional purity. This technique, created and patented by Yannick Alléno, refines any recipe such as the Omelette au lard à la truffe noire with its extraction of a tome de Savoie.
Located in the Pavillon Ledoyen and overlooking the beautiful gardens of the lower Champs-Elysées, the listed décor of "Alléno Paris" is the perfect setting to indulge the resolutely modern creations of the multi-starred chef who places the sauce at the heart of his culinary art.