The Les Prés d'Eugénie hotel is the story of a family, that of Michel and Christine Guérard. The couple embodies the culmination of a lifetime dedicated to building a palace and a restaurant offering the best of French produce.
Les Prés d'Eugénie makes a dual promise: fine dining and hospitality. This establishment, which was granted the label of "Palace" (French luxury hotel) in 2017, has consistently innovated and set new standards for French luxury. It all started in 1961, when Christine Guérard's father bought the Eugénie-les-Bains thermal domain, in the Landes region. Christine made it into a hotel and joined the Relais & Châteaux association in 1966. When Christine met her future husband, young chef Michel Guérard, in 1972, Les Prés d'Eugénie became a laboratory of excellence.
Michel Guérard started working in the Eugénie kitchens in 1974. It was there that he invented his Grande Cuisine Minceur® ("great slimming cuisine") which brought him international success. Three years later, he received his third Michelin star, which he has held on to ever since. Over the years, under the management of Christine, the hotel was expanded and modernised in keeping with international standards. 
Les Prés d'Eugénie remains a family company under the leadership of Michel, Éléonore, and Adeline Guérard. The establishment employs 180 people specialised in the art of exceptional hospitality.
Les Prés d'Eugénie became a Comité Colbert member in 1986.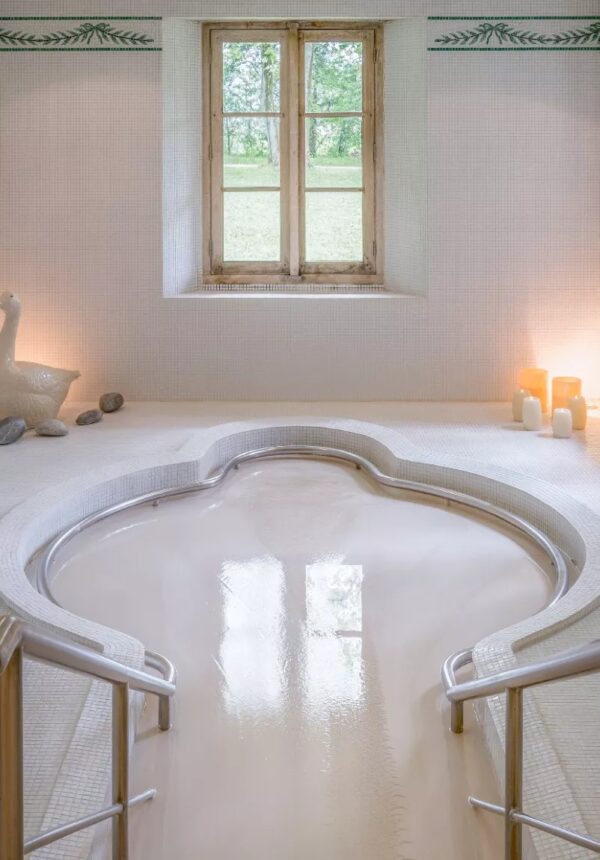 As well as unparalleled service, Les Prés d'Eugénie is set apart by its Ferme Thermale. In its rural, elegant, and natural 18th-century setting, this unique spa combines the virtues of plants with the beneficial mineral properties of the estate's thermal sources which are thousands of years old.
In the kitchen, the art of slow cooking is at its best, with dishes such as lobster and "bœuf sur le bois et sous les feuilles" (wood-fired beef with thyme).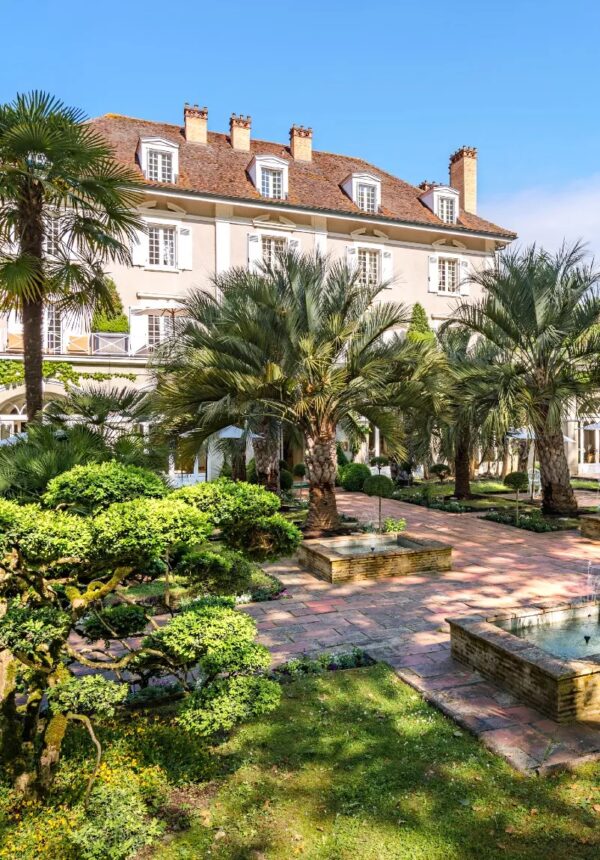 Les Prés d'Eugénie is nestled in the village of Eugénie-les-Bains, on the fringes of the Landes and Béarn regions. It was named after Empress Eugenie, wife of Emperor Napoleon III, who was also a patron of the thermal resort.