The Palace Les Airelles was born from the imagination of Madame Raymonde Fenestraz, who in 1988, when the world's eyes were focused on the Albertville Olympic Games, decided to build a snow palace at the top of Courchevel.
Madame Raymonde Fenestraz, a native of Courchevel, seized the opportunity to make her dream come true, to create a charming hotel, as she liked to say, the chalet of her childhood dreams, subtly blending the Austrian universe with her Savoyard roots. It was during one of her trips around the world that she came across the Austrian style, particularly the Post Hotel in Vienna. She was inspired by the comfort and authenticity of this establishment to create Airelles Courchevel.
Carved out of the forest of fir trees in the Jardin Alpin, decorated with the glittering garlands of stalactites, this Austro-Hungarian castle taken from a fairy tale takes shape as if by magic in the crystal clear snow. At the foot of the slopes and in the heart of the Domaine des Trois Vallées, the Hôtel Les Airelles offers an enchanted interlude. The lyrical flights of pastel-coloured frescoes, the ceiling and coloured stained glass windows form a cocoon outside of time, a winter house dedicated to happiness where you feel at home. The reality is even more beautiful than the legend.
The mythical Courchevel Palace, unique in its kind, asserts itself thanks to its incomparable identity. A castle of wonders with the warm atmosphere of a large family. A promise made to its guests: that of always excelling in the quality of services in order to make them experience much more than exceptional moments, and to offer them a service that is always impeccable.
A magical place where 180 people take care of guests in search of a unique lifestyle or who are passionate about excellence. The desires of young and old are fulfilled: Spa La Mer, Ski Lounge by Bernard Orcel, luxury boutiques, private skating rink, Children's Kingdom and many other surprises.
Les Airelles Courchevel joined the Comité Colbert in 2021.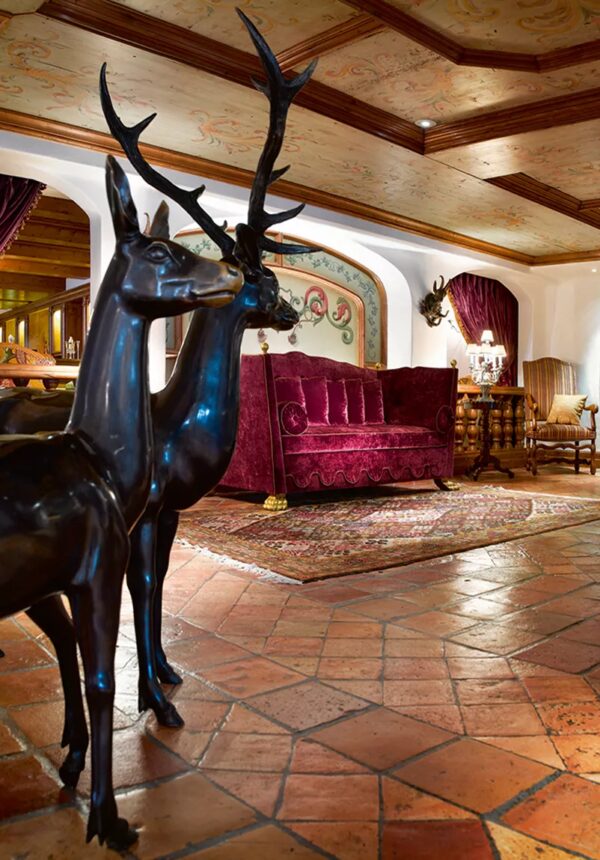 Each room is a special universe: the unique atmosphere of the place is enhanced by decorative details such as objects brought back from travels, furniture, books and old paintings, either found or created by Christophe Tollemer.
For the renovation of Les Airelles, Christophe Tollemer worked with the greatest craftsmen in Europe, using the most noble materials: tapestries made to measure by Laligant in brocaded fabric from Rubelli; Slant-top desks secretaries imported from Florence, Italy; sublime armchairs made by Laval; floor tiles from a Loire château; the stove in the hall, manufactured in Austria; all the woodwork made to measure by Fournier in Switzerland.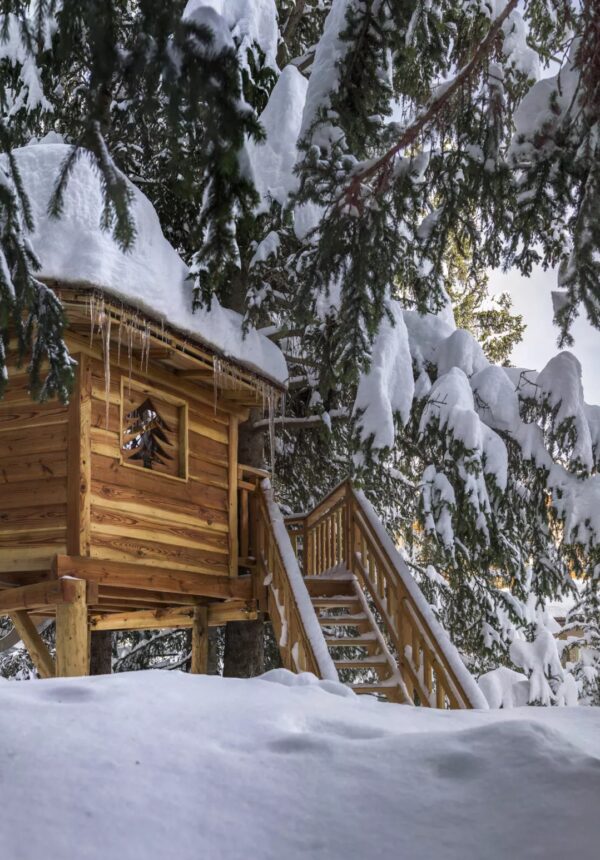 It's a favourite place for children! At Les Airelles, everything is done so that children can have fun and develop as much as they want.
Castle, arcade, video game simulator, cinema room with console, air hockey table, tree house, ice rink, here children are kings. During the school holidays, many activities are offered to them.
Between dog sled rides, magic shows, pastry classes, snowcat rides, skijoring, fancy dress and hockey games on the ice rink, every day at Les Airelles is an adventure. At snack time, delicious surprises are prepared, inviting young and old to share this moment together.