Established on Avenue Montaigne and neighbour of the Théâtre des Champs-Élysées, Hôtel Plaza Athénée oozes French luxury in this Parisian district which has become the heart of haute couture.
Built in 1911 by hotelier Jules Cadillat and inaugurated two years later in April 1913, Hôtel Plaza Athénée is situated on the street rechristened Avenue Montaigne in 1850, alongside elegant mansions and sophisticated cabaret clubs. The hotel quickly made a name for itself as one of the leading luxury hotels in the City of Light, to such an extent that it was extended to double its size in the roaring twenties.

In 1936, the iconic Le Relais Plaza restaurant opened. The art deco interior designed by Constant Lefranc was truly groundbreaking and is still much admired today. Its style was inspired by the first-class dining room of the SS Normandie ocean liner.
The opening of Christian Dior in 1946, just a short distance from the hotel, marked the start of a long relationship with couture, with other designers following suit. Avenue Montaigne then became Paris' "Avenue of Fashion" and Hôtel Plaza Athénée the place to be for the boutiques' customers.
Today, Hôtel Plaza Athénée offers 154 rooms and 54 suites, including the famous Haute Couture Eiffel and Signature Eiffel suites. In 2010, it became an Entreprise du Patrimoine Vivant ("Living Heritage Company", a label awarded by the State for excellence in artisanal and industrial savoir-faire), then received the official "Palace" distinction in 2011. The hotel is renowned for its Haussmann façade and its furniture with classic and art deco designs. It has five restaurants and bars, all overseen by the world-renowned chef Alain Ducasse, including his eponymous restaurant. Alain Ducasse's Michelin-starred restaurant in the Plaza Athénée proposes natural cuisine inspired by the fish-vegetables-cereals trilogy. Lastly, to continue its long relationship with Dior, in 2007, the hotel opened its spa, the Dior Institut au Plaza Athénée.
The Plaza Athénée is part of the Dorchester Collection and became a Comité Colbert member in 1966.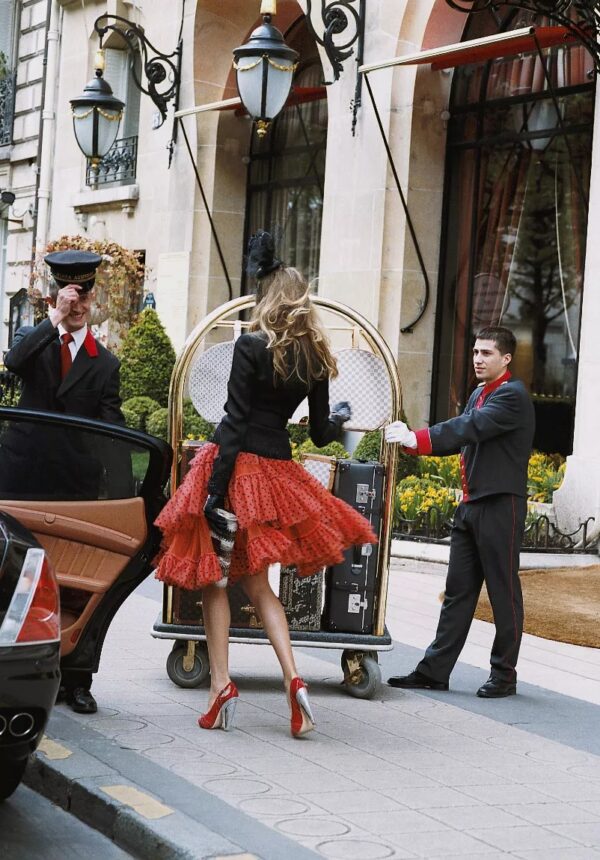 Red is the colour that represents this instantly recognisable luxury hotel, with its wrought iron balconies, red canvas awnings, and window boxes filled with scarlet geraniums.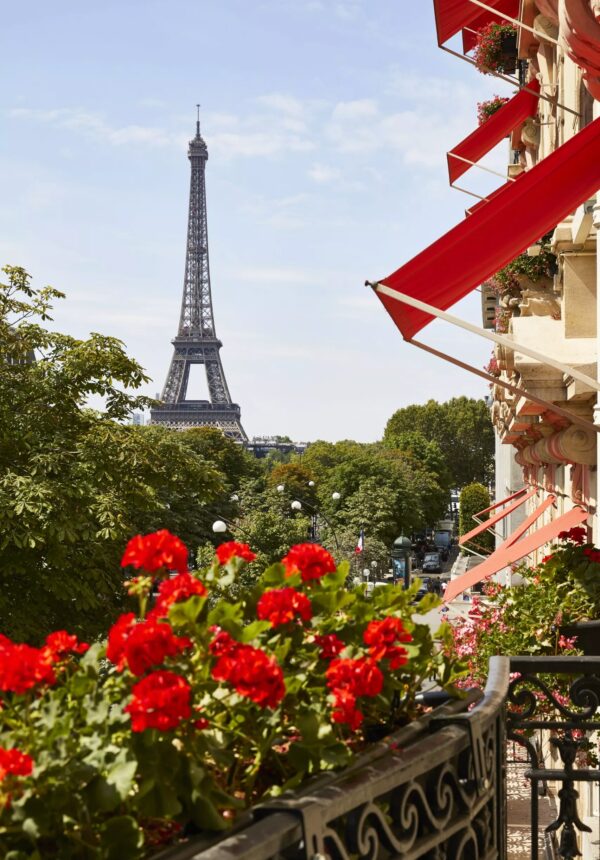 The Plaza Athénée is situated at 25 Avenue Montaigne, an iconic location in the heart of Paris' Golden Triangle, just a stone's throw from the Champs-Élysées. The view of the Eiffel Tower from its balconies and windows is simply stunning.