Guardian of ancient traditions of wood paneling excellence and know-how since 1875, Féau Boiseries is a reference nowadays in the world of high-end interior decorations. It knows how to meet the whims of a demanding clientele, used to luxury bespoke services.
Féau Boiseries draws its creations' inspiration from its historical archives which comprise complete decors created by renowned architects such as Claude-Nicolas Ledoux, François-Joseph Bélanger, Charles Percier and Pierre Fontaine, Armand-Albert Rateau, Jean-Michel Frank or Emile-Jacques Ruhlmann.
The company produces custom reproductions of these decors for private clients. Reproductions whose high quality equals the creations of the great masters. Féau Boiseries productions cover various styles that stretch from the Renaissance to the 1970s, with a particular fondness for 18th-century items – a period when grand French decors had reached their peak.
Through its collaboration with prestigious classical and contemporary architects and decorators, Féau Boiseries spreads and contributes to the reputation of French decorative arts all over the world and is recruited to work on projects located not only on the American West coast but also in Japan, Hong Kong and throughout Russia and Europe.
Féau Boiseries joined the Comité Colbert in 2021.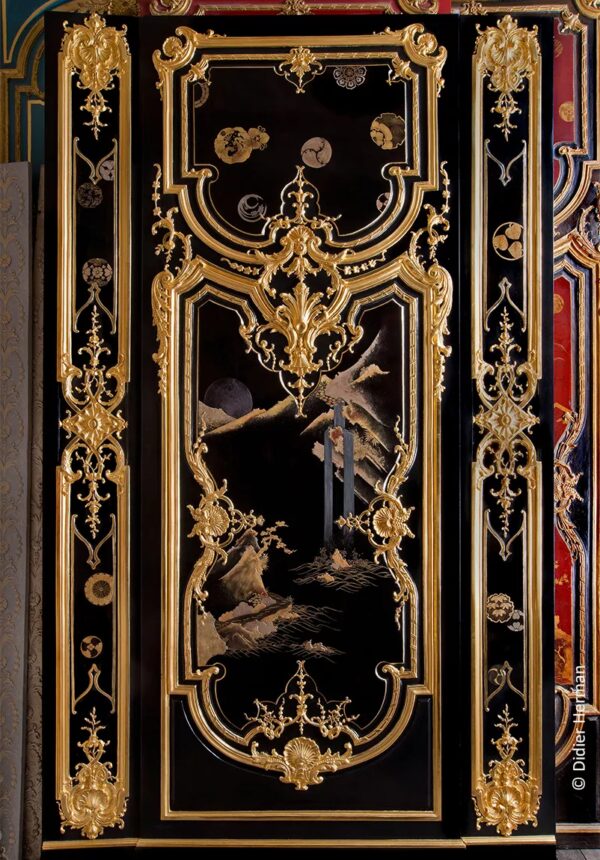 This Chinese black lacquer and gold Régence panel can be considered as a signature creation reflecting the House's spirit. It was inspired by an antique original piece in the Féau collection which was interpreted in a more contemporary spirit so it would match the taste of some our projects abroad (Asia and Russia, mainly). The original panel is a Régence-style item on extraordinary quality which illustrates the richness of the decorations created for the biggest 18th century clients, from the ones living in place Vendôme to the Italian palaces' nobles, and including several other great European courts.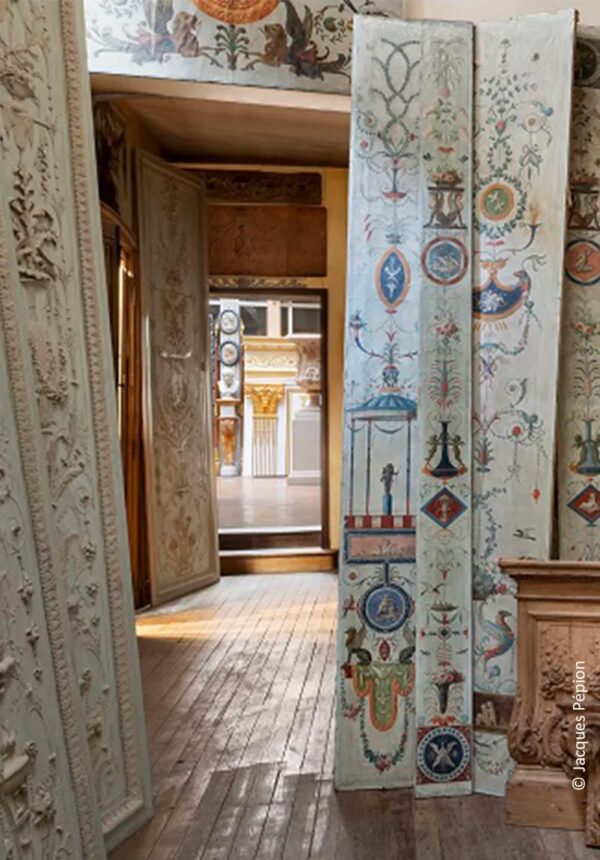 The 9 Rue Laugier, a timeless workshop
The thousands of elements carefully stored in the house archives, artistically set forth by three Féau generations, proliferate at the company headquarters, on the rue Laugier, the same ones as in 1875, when the saga began. In this corner of Paris, right near the Place de l'Etoile, many artisans worked at the time to enhance superb Parisian apartments and private mansions.
The original premises have remained intact. They offer the experience of a time-based capsule, in a labyrinth of huge rooms, one of which is still crowned by a vintage skylight that diffuses magical light. Art amateurs from around the world are very much aware: this is one of the most beautiful landmarks in Paris.